Hypnos mattresses and beds are amongst the most desirable in the country – and it's no surprise why!
Made with impeccable craftsmanship from the highest quality materials, Hypnos are holders of a Royal Warrant since 1924. An award-winning luxury bed brand with a Queen's Award for Enterprise for Sustainability 2020 and recognised by PlanetMark for its commitment to carbon-neutrality, Hypnos is a brand focused on creating the perfect nights' sleep and providing comfort with integrity, trusted since 1904.
Our Hypnos Mattresses Collection
The Apple Orchard - Exclusive Hypnos Dealers
One of the primary lines of business at The Apple Orchard is offering Hypnos beds and bespoke furniture. We are a charming Hypnos- exclusive bed barn located in West Wycombe. You can visit us to explore our wide range, to find the one that best suits your individual need. Benefit from having a personal conversation with our friendly, helpful team. We provide nationwide delivery and are within easy reach of High Wycombe, Thame, Princes Risborough and Stokenchurch.. The Apple Orchard is the exclusive Hypnos preferred partner in this region which means, we do not sell any other brands. We take pride in selling the full range of the Hypnos brand, including Hypnos Beds, Hypnos Mattresses, Head-rests, Pillows, Toppers, and other high-quality Hypnos accessories and bed linen. By experiencing the luxury of Hypnos in your own home, you can truly appreciate the comfort and craftsmanship they provide.
In addition to Hypnos beds, The Apple Orchard also offers its own bespoke furniture. This aligns with the town of High Wycombe's renowned reputation as the "town of hand-made furniture craftsmen." Our bespoke furniture is designed and crafted to the highest standards, reflecting the skill and artistry of the local craftsmen.
We invite you to visit our showroom at The Apple Orchard and explore the wide range of options available for Hypnos and other bespoke furniture for your home. Once you see the quality and variety first-hand, you will be amazed. Whether you're looking for a luxurious bed or exquisite bespoke furniture, The Apple Orchard strives to provide you with exceptional products that you can be proud of.
Hypnos Product Information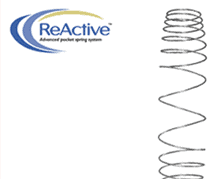 Offers perfect support, perfect comfort.
No compromise.
Heat treated at up to 8 specific points.
More pressure means more support.
Pocket Sprung.
Taller than an average spring.
Wider than an average spring, so less in a mattress. 
Hand Made.
Highest Quality Materials.
Dovetail Joints.
10 Year Guarantee.
Various Storage Options.
Huge Fabric Choice.
10 Year Guarantee on all items (not accessories).
Covers defects and faults.
Care guide delivered with goods.
Register guarantee by post or online.
Turning may be required for some mattresses.
Rotating is required on all mattresses.
Mattress protectors are recommended.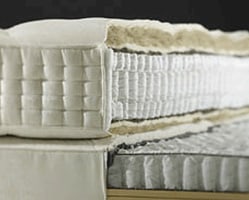 Natural throughout the ranges.
Applied by hand.
Designed to last, guaranteed for 10 years.
Always bound by hand tufting.
Most mattresses require turning over.
All mattresses require rotating.
Turning or rotating every 12 weeks.

Hypnos is a family-run British mattress and bed manufacturer. All of their mattresses are crafted by hand in the UK, using sustainably sourced natural materials.
For over 100 years they have been creating mattresses of the highest quality in their factory in Princess Risborough.
Hypnos use the highest quality natural and sustainable fillings and are handcrafted by professionals who have spent many years practising their craft. Every mattress from the Hypnos mattress range is created to offer superb comfort and promote a good night's rest. The superior quality of Hypnos mattresses is also backed by a 10-year guarantee. And if that isn't enough the brand is one of the few awarded with The Royalty Warrant, as proof of their craftsmanship and excellence.
While it's recommended to change your mattress every 7 to 10 years, a good quality mattress should last longer than that. Hypnos mattresses come with a 10-year manufacturer guarantee which means you can be sure you'll be able to enjoy your mattress for well over a decade, especially if you follow the recommended care and maintenance.
All mattresses crafted by Hypnos are superior in terms of comfort, but which one would be most suitable for you will depend on your individual needs and preferences. Hypnos offers a wide range of mattresses with different levels of support and various luxurious fillings to suit your requirements. The Hypnos mattress range features a number of different collections including Hypnos Origins, Regal, Pillow Top, Luxury No Turn, as well as the specialised Hypnos Orthos created for sleepers who need more support.
The majority of our Hypnos mattresses come with a comfort layer on both sides which means they should be turned seasonally to promote even wear. Along with turning, your mattress should also be rotated at 180 degrees from the top to the bottom of the bed. For people who may struggle with turning their mattress Hypnos also offers a line of no-turn mattresses.
Hypnos mattresses are rather pricey compared to other brands on the market, however, the brand's no-compromise approach in terms of quality makes them a worthy investment. The 10-year manufacturer guarantee offers additional assurance that every penny you pay for your mattress will be worth it. Our prices for Hypnos mattresses start from around £300 or so for a single sized mattress.